MR. QUIET
Running Time: 10.17 minutes
Year Released: 2004


SYNOPSIS
Technical Difficulties returns in this creepy music video/short film. A late night rehearsal turns into a desperate struggle for survival when band members meddle with a Ouije Board, conjuring a demonic soul from the depths of hell. Will anyone live to continue the legacy of T.D.?

CREDITS
Starring RAVANI FLOOD, TREVER VEILLEUX, MANUEL IGNACIO, JESSE SHATERNICK, GARDNER DEAGUIAR, IAN MILLER with ERIC STACK as MR QUIET
Directed and Produced by DEREK FREY

PRESS
Technical Difficulties Big Cameo
Big Isle Band has part in Charlie and the Chocolate Factory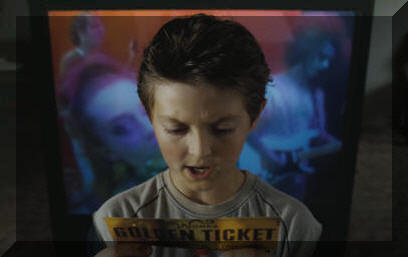 By John Burnett
For the Hawaii Hawaii Tribune Herald - Entertainment Section
When Tim Burton's new film "Charlie and the Chocolate Factory" opens nationwide a week from today, sharp-eyed Big Island moviegoers may notice East Hawaii rock band Technical Difficulties in a cameo of sorts. Eleven seconds of the band's video "Mr. Quiet" will appear on a screen-within-the-screen in the film, which stars Johnny Depp as Willie Wonka and promises to be decidedly different from 1971's semi-psychedelic musical "Willie Wonka and the Chocolate Factory."
"There's a scene where each child is reading a portion of the golden ticket," said Derek Frey, CCF's associate producer and director of all of TD's rock videos. "On the golden ticket, there are instructions on how they are to enter the chocolate factory on a particular date and time. It's almost like a montage sequence where each child is in their own environment at home. Mike Teavee is into violent videogames and wears a shirt picturing a bloodied skull. He's kind of a weird techie-punk kid who thinks he knows it all. He has a very large-screen TV behind him which is supposed to represent what he would be watching. And the 'Mr. Quiet' video fits into the genre of what he would watch."

While it may appear that Burton included the video clip as a favor to Frey, a longtime associate who is also a friend and benefactor of TD's, the famed filmmaker says that is definitely not the case. He says that he was looking for a thrash-metal video to play while introducing Mike Teavee, the kid who is ultimately shrunk by Wonkavision.
"I watched some of the music videos sent from Warner Brothers," Burton explained. "None of them fit the bill. Derek asked me to have a look at the 'Mr. Quiet' video. I thought the ending was perfect for the scene in the film -- quick editing, kind of horror-campy. The music sounded very heavy metal, which was what I was looking for. It was impressive. I kind of liked the fact that they're not recognizable yet and thought this could help them get to the next step."
TD also gets a music credit at the end of the movie. Pretty heady stuff for an indie rock band from Hawaii, said guitarist-vocalist Trever Veilleux.
"Just that alone is exciting and is an honor," he mused. "It seems like whenever we do anything, like the 'Mr. Quiet' video, people ask, 'What are you going to do with it?' That question doesn't really cross our minds. The creative process is what inspires us and what drives us. So whenever anybody asked what we were going to do with this video, we couldn't answer them. Then, a year later, it's in a major motion picture. Now, what that means for our future -- and I get asked that a lot -- I have no idea, and it's not really something that I spend a lot of energy thinking about."
Burton, who met TD vocalist-alto saxophonist RaVani Flood while filming the remake of "Planet of the Apes" on the Big Island, eventually saw the band play in London, where CCF was filmed and where TD recorded and played club gigs this spring. Burton was impressed enough to ask TD to play the CCF London premiere party July 17.
"They just look like these nice people that are going to perform pleasant songs," Burton said of TD's set at Caernavon Castle, a rock club in London's Camden section. "Then they rip into an intense 30-minute set giving it everything. It was all-out rock. Someone next to me called them (bleeping) demons. I'm pretty sure that's a positive comment in the UK."
Actually, that someone was David Arnold, a Grammy-winning British film composer and record producer whose film soundtracks include the last three James Bond movies and whose production résumé includes Bjork, Aimee Mann, Damien Rice, Pulp, Iggy Pop, k.d. lang, Chrissie Hynde and Garbage. Arnold was struck by TD's eclecticism.
"Amongst the funk, rock, soul, folk, punk, jazz and R&B chaos there is a perverted
sense of genius," he commented.
Veilleux said that the band will not be deterred by Thursday's horrific bus and metro train bombings by terrorists.
"That's not something that's likely to happen in Hilo, but it could have happened anywhere," he reflected. "You can't let things like that stop you."
And while TD has an invitation to play the premiere -- an honor usually reserved for a Warner Bros. act -- they will have to pay their own way to London. The band is putting on its fundraising "Chocolate Fantasy Party" tonight at 9 p.m. at Uncle Mikey's in the Waiakea Villas. Other bands on the bill are Downstar, Shiva and Augustine. Tickets are $10 advance at CD Wizard and Rock Island Gallery, $15 at the door. The night has a chocolate theme. Admission includes a raffle ticket for a chance to win Tim Burton t-shirts, books, DVDs, and other movie memorabilia.
"It's going to be fun performing with three really good bands that we've never played with," Veilleux said. "We're putting a lot more energy into this show than just a regular club gig. We're aiming to make it an event."

REVIEW
Reviewer:




Beats the quality of MTV music videos., 6 April 2006
Author: lunarsight from United States
It's sad how far the art of making music videos has fallen lately. When you look at a lot of these artists on MTV, they have mountains of cash to work with, but still end up producing unoriginal, uninspired, uninteresting garbage 3/4 of the time.
For Mr. Quiet, you can tell the band/director didn't have a lot of financial resources to work with, yet they still ended up with a far superior product than a lot of the MTV bands would.
It kind of has a B-rated horror movie vibe to it, which probably wouldn't work for a movie. Although, when you take it in the context of music video, it fits quite nicely, adding a visually-interesting backdrop for the music itself.